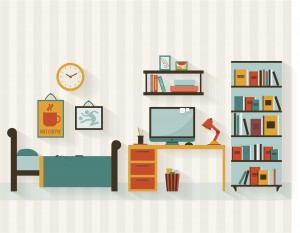 With the temperatures beginning to drop and winter growing closer with each passing week, college students are preparing to hunker down in their dorms this winter. While a college dorm can be a cozy place to spend snow days during the winter season, dorm fires tend to occur most often during the winter months. This is because there are more elements at play during the winter months that could lead to a fire beginning within a college dorm. In order to prevent college dorm fires this winter season, college students throughout the state of Maryland should follow a number of different safety and prevention steps.
Students should be able to identify at least 2 exit pathways from their dorm room and the entire building.
Fire extinguishers should be present on every floor of the dorms and students should be able to locate the extinguisher closest to their room.
A properly functioning smoke detector and sprinkler system should be located within the dorm building before move-in day.
Students should meet with their RAs to determine proper fire policies and procedures.
There should never be any type of open flame within a dorm room. This can include burners, candles, and smoking.
Never leave any type of cooking unattended. Labels should always be read before placing items on a stove or in a microwave.
Reduce the amount of clutter within a dorm room to prevent the spreading of flames while also helping to create a clear path out of the room during emergencies.
Never cover a lamp or light source with fabric or any other flammable material.
During the winter months, space heaters are used frequently to create more heat for students. If you wish to use a space heater in your room, remember to stay safe. A space heater should never be left unattended or on overnight. When a space heater is being used, keep it clear of any fabric or other flammable or combustible items.
Fireline is proud to have worked closely with Towson State University in Maryland. TU is believed to be the only university in the nation to have a full sprinkler system installed.
At Fireline, we offer an array of portable fire extinguishers and fire alarm systems to keep commercial buildings safe. Fireline offers the highest quality alarm systems to keep your business safe from fires and carbon monoxide poisoning. We also offer fire suppression systems as well to help keep commercial fires controlled should they break out. Our trained technicians will work with you to determine which air sampling smoke detection system is best for your business. We will also help install and maintain the system for your commercial building.
To get started with Fireline today, call us at 1-800-553-3405, or visit our contact page.
Be sure to "Like" and "Follow" the official Fireline page today on Google+, Facebook, Twitter, and LinkedIn.