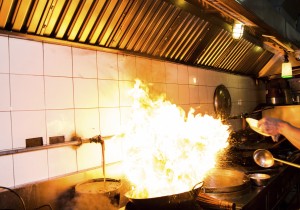 Working in a commercial kitchen may seem like an overall safe environment, but in reality, a commercial kitchen environment can be very hazardous. Because of this, a commercial kitchen should have a kitchen hood system installed. A kitchen hood system will help suppress a surprise kitchen fire and help prevent the fire from spreading to the rest of your kitchen and restaurant. However, some who work in a commercial kitchen may not see the need for a kitchen hood system to be installed, or they may think they can install the system on their own to help save money. Both of these thoughts are wrong and quite dangerous for everyone working in the commercial kitchen environment. Commercial kitchen fires can occur quickly and burn extremely hot, making a kitchen hood system necessary for fire safety. If you attempt to install the kitchen hood system, you could install the system incorrectly leaving in ineffective. In fact, a poorly installed kitchen hood system can actually lead to a serious commercial kitchen fire.
The most common causes of commercial kitchen fires are as follows:
Installation- If a kitchen hood system or other ventilation system is installed incorrectly, materials used during installation could be left exposed. Materials such as wood that were used during installation and left exposed or too close to the cooking area can become ignited easily should a flame rise high enough. Cooking appliances that are installed too close together could also become a serious fire hazard.
Grease- After a period of time, grease from cooking tends to build along your cooking appliances. Failure to clean your ventilation systems and appliances properly can lead to the grease igniting and spreading.
Deep Frying- In the past, kitchens have used fats to deep fry their foods. However, fats can catch fire easier than other oils, making your fryer a serious fire hazard if not used properly.
At Fireline, we offer an array of portable fire extinguishers and fire alarm systems to keep commercial buildings safe. Fireline offers the highest quality alarm systems to keep your business safe from fires and carbon monoxide poisoning. We also offer fire suppression systems as well to help keep commercial fires controlled should they break out. Our trained technicians will work with you to determine which air sampling smoke detection system is best for your business. We will also help install and maintain the system for your commercial building.
To get started with Fireline today, call us at 1-800-553-3405, or visit our contact page.
Be sure to "Like" and "Follow" the official Fireline page today on Google+, Facebook, Twitter, andLinkedIn.
Source:
http://goo.gl/sK5USC