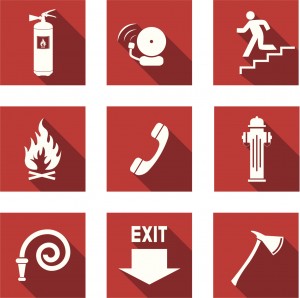 When you begin a new business venture, owners have are faced with a laundry list of things to take care of and consider. With so many things to consider on both a professional and personal level, some important aspects of beginning a small business could potentially be pushed to the side. One important component of beginning a small business is fire safety. Even if your small business is a simple retail store, there is always a risk of an accidental commercial fire beginning.
When you consider the space for your small business, there are a few components to consider in the way of fire prevention.
Exit Signs
Partner with your local fire authorities to determine what codes are in place surrounding exit signs and lighting in case of a fire or other emergency. In most cases, illuminated exit signs and lighting are required throughout your building to assist in safe exit during an emergency.
Occupancy Rating
Different services can be provided within a certain space based on its occupancy rating. This means that a space that can be used as an office will have a different occupancy rating than a space used as a café or restaurant. This occupancy rating will also let you know how many individuals can safely be within the building at one time. This rating also determines the type of protection systems and construction is required regarding fire prevention and fire safety.
Extinguishers
Every small business should be equipped with portable fire extinguishers in case an accidental fire occurs. Normally, there should be one portable fire extinguisher for every 75 feet of travel. The type of extinguishers needed for your small business will be determined by the classification of occupancy.
At Fireline, we offer an array of portable fire extinguishers and fire alarm systems to keep commercial buildings safe. Fireline offers the highest quality alarm systems to keep your business safe from fires and carbon monoxide poisoning. We also offer fire suppression systems as well to help keep commercial fires controlled should they break out. Our trained technicians will work with you to determine which air sampling smoke detection system is best for your business. We will also help install and maintain the system for your commercial building.
To get started with Fireline today, call us at 1-800-553-3405, or visit our contact page.
Be sure to "Like" and "Follow" the official Fireline page today on Google+, Facebook, Twitter, and LinkedIn.