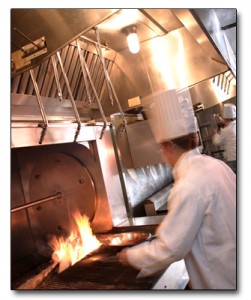 A commercial kitchen is one area of your establishment that is at the greatest risk of a commercial fire. The constant presence of grease and grease vapors due to high volumes of cooking can create a vulnerable environment. Without proper ventilation in place, your commercial kitchen will become more dangerous when it comes to the risk of a commercial fire. In order to keep your staff safe, your commercial kitchen should have a hood and ventilation system in place. However, some may not know what a hood and ventilation system is.
A hood and ventilation system for your commercial kitchen tends to include a fan system, an exhaust hood, and ductwork. The components of this system work together to remove the presence of grease, vapors, and heat from your commercial kitchen in order to reduce the risk of commercial kitchen fires.
When you plan to have a hood and ventilation system installed, it must be installed professionally in accordance to the National Fire Protection Association Standard 96. Before installation, your local fire department should be contacted to discuss any other codes for your county. Filters must be installed within the system to remove grease in areas that produce heavy amounts of grease. The filters should be cleaned regularly to avoid any potential grease build-up.
In order to properly maintain your hood and ventilation system, each component of the system should be serviced by a professional on a regular basis. This will prevent grease build-up while also ensuring the system is functioning properly. A written record should be kept of all services and if any problems should occur.
At Fireline, we offer an array of portable fire extinguishers and fire alarm systems to keep commercial buildings safe. Fireline offers the highest quality alarm systems to keep your business safe from fires and carbon monoxide poisoning. We also offer fire suppression systems as well to help keep commercial fires controlled should they break out. Our trained technicians will work with you to determine which air sampling smoke detection system is best for your business. We will also help install and maintain the system for your commercial building.
To get started with Fireline today, call us at 1-800-553-3405, or visit our contact page.
Be sure to "Like" and "Follow" the official Fireline page today on Google+, Facebook, Twitter, and LinkedIn.