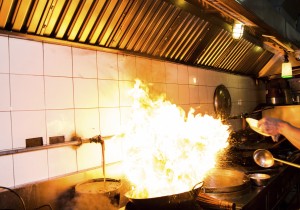 Commercial kitchens can be found in a number of different establishments aside from restaurants. A kitchen is considered a commercial kitchen when it includes equipment that can produce grease as well as grease vapors. These pieces of kitchen equipment can include deep fat fryers, flat grills, and char broilers. Because of the presence of grease, commercial kitchen fires are a great risk. In order to prevent these commercial kitchen fires, it is important to understand the equipment and the safety steps that need to be taken.
Deep Fat Fryer
This piece of equipment is one of the main causes of commercial kitchen fires. This is because of two main reasons.
The first risk comes from the temperature of the grease being used. As the grease temperature increases, the risk of a grease fire increases as well. Grease should be kept no higher than 375 degrees Fahrenheit. Your fryer should have a device that will shut the appliance off should the grease reach a temperature that exceeds 475 degrees.
The second risk comes from the grease being able to splash out of the fryer. If other appliances are close to the fryer, the grease could potentially reach an open flame, which could lead to a kitchen fire. To prevent this, keep kitchen appliances that include an open flame at least 16 inches away from the deep fat fryer.
Flat Grill
This type of kitchen appliance is normally used to fry meat items like bacon and hamburger patties. As the frying continues, grease and vapors will be produced around the grill. If your commercial kitchen lacks ventilation, these vapors could lead to a commercial kitchen fire. To avoid these fires, be sure to have a hood and ventilation system installed within your kitchen.
At Fireline, we offer an array of portable fire extinguishers and fire alarm systems to keep commercial buildings safe. Fireline offers the highest quality alarm systems to keep your business safe from fires and carbon monoxide poisoning. We also offer fire suppression systems as well to help keep commercial fires controlled should they break out. Our trained technicians will work with you to determine which air sampling smoke detection system is best for your business. We will also help install and maintain the system for your commercial building.
To get started with Fireline today, call us at 1-800-553-3405, or visit our contact page.
Be sure to "Like" and "Follow" the official Fireline page today on Google+, Facebook, Twitter, and LinkedIn.