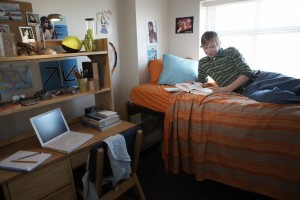 As the winter break begins to end, many college students are preparing to move back to their college dorm. While this is always a fun and exciting time for college students, they should also be aware of their safety within the dorm. When moving back to college, there are several fire safety questions that students should ask to ensure their safety during the upcoming semester. Here are some fire safety questions that college students should always seek answers to:
Does each room include a smoke alarm? Your campus should be able to tell you yes and when their last service occurred.
Are the halls and provided off-campus housing equipped with a fire sprinkler system? Once again, the answer should be yes and followed with the date of the last service and inspection.
How many on-campus fires have occurred within the past year? The past 5? Campuses are beginning to keep better records of the fires that occur on campus, along with the details surrounding each incident.
What are the consequences of a false alarm? It is not unheard of for college students to believe they are being funny and pull the fire alarm at odd hours of the night. You want to ensure that your campus will not take such reckless behavior lightly.
When is the fire department notified when an alarm is activated? A proper fire alarm should signal your local fire department immediately upon activation.
How often is safety inspections conducted? Safety inspections should be conducted regularly to ensure every room is meeting fire safety standards. You also want to ensure your fire alarms and sprinkler systems are functioning properly.
What items are banned from dorms and residence halls? Candles, halogen lamps, burners, and smoking should be banned from all dorms and residence halls to prevent dorm fires.
At Fireline, we offer an array of portable fire extinguishers and fire alarm systems to keep commercial buildings safe. Fireline offers the highest quality alarm systems to keep your business safe from fires and carbon monoxide poisoning. We also offer fire suppression systems as well to help keep commercial fires controlled should they break out.
Fireline is proud to have worked closely with Towson State University in Maryland. TU is believed to be the only university in the nation to have a full sprinkler system installed.
To get started with Fireline today, call us at 1-800-553-3405, or visit our contact page.
Be sure to "Like" and "Follow" the official Fireline page today on Google+, Facebook, Twitter, and LinkedIn.
Source:
http://goo.gl/p97sQq