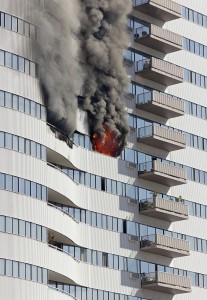 According to fire safety statistics, the American workplace setting sees at least two hundred fires a day. Because of that high number, it also means that almost two hundred employees are killed, more than five thousand are injured, and nearly two billion dollars are spent each year because of workplace fires. While some of these fires are uncontrollable and unpreventable, many of these two hundred a day fires in the workplace could be prevented. Whether you work in an office space or a warehouse, there are always fire risks that surround you. However, these risks can be prevented if staff members use the proper precautions. So how are these workplace fires prevented?
Always check cords and wires being used for appliances and equipment. Wires that are becoming frayed could cause a spark, which could lead to a workplace fire.
Try to avoid using extension cords if possible. Extension cord misuse can increase your chances of a workplace fire.
Avoid overloading your outlets and power strips. Too many appliances being plugged in and used at once can cause a fire or at least a power outage or shortage.
If your business uses any type of chemicals, or even cleaning supplies, ensure they are stored properly. Read all labels and ensure the liquids are placed in an area that meets their safety needs. Also be sure to never store chemicals together that could become flammable or combustible.
When preparing hot lunches in the office, only cook in designated areas. Hot plates and burners used within an office area could lead to a workplace fire, especially if not used correctly.
Clean all equipment on a regular basis to prevent dust and organic material build up. A severe build up could leave your workplace more vulnerable to fires.
Always smoke in the designated smoking areas. Never try to sneak smoking in areas that is prohibited. If you do choose to smoke, be sure to extinguish and dispose of your cigarettes properly and thoroughly.
At Fireline, we offer an array of portable fire extinguishers and fire alarm systems to keep commercial buildings safe. Fireline offers the highest quality alarm systems to keep your business safe from fires and carbon monoxide poisoning. We also offer fire suppression systems as well to help keep commercial fires controlled should they break out.
To get started with Fireline today, call us at 1-800-553-3405, or visit our contact page.
Be sure to "Like" and "Follow" the official Fireline page today on Google+, Facebook, Twitter, and LinkedIn.