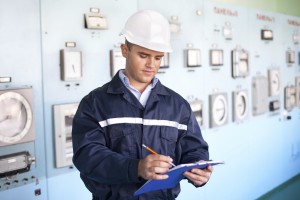 Fire inspections occur to evaluate the safety level of buildings in the fight against commercial fires. A fire inspection is also conducted to ensure all safety standards are being met and all fire codes are up to par. Without a fire inspection, commercial buildings could be unsafe for the public to enter.
What is Inspected during a Fire Inspection?
Fire inspectors will look at many aspects of your building during a fire inspection. Some of these include the following:
Fire emergency procedures
Fire emergency evacuation plans
Fire alarm systems
Fire extinguishers
Fire sprinkler systems
Construction of building
Design of building
Fire Inspection Requirements
There are certain requirements that buildings must meet, both externally and internally, in order to pass a fire inspection. Some of the requirements for the external portion of the building include:
Debris and trash should not be on the grounds of the building
The building address should be an appropriate size and seen from the street by pedestrians
The building's gas meter must be protected
Some of the requirements for the internal portion of the building include:
Capacity signs must be displayed at the main entrance of the building
Pathways for an exit must be illuminated
Extinguishers must be stickered and tagged
Extinguishers must be proper code depending on potential hazards
Building aisles should be obstruction-free
Detectors must be tested and properly functioning
Preparation and Maintenance for a Fire Inspection
Keeping up with proper maintenance is a great way to be prepared for a fire inspection. Addressing problems with detectors, extinguishers, and sprinklers when they arise is ideal in keeping your occupants safe while also ensuring a passed fire inspection. Using a generalized fire inspection checklist can also help you ensure that your building is up to code.
At Fireline, we offer an array of portable fire extinguishers and fire alarm systems to keep commercial buildings safe. Fireline offers the highest quality alarm systems to keep your business safe from fires and carbon monoxide poisoning. We also offer fire suppression systems as well to help keep commercial fires controlled should they break out. Our trained technicians will work with you to determine which air sampling smoke detection system is best for your business. We will also help install and maintain the system for your commercial building.
To get started with Fireline today, call us at 1-800-553-3405, or visit our contact page.
Be sure to "Like" and "Follow" the official Fireline page today on Google+, Facebook, Twitter, and LinkedIn.
Source:
http://goo.gl/7Njgye