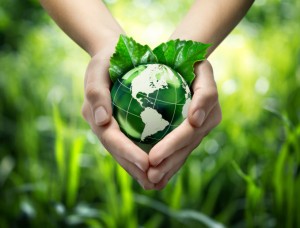 In the past, green has always been the symbol for safety in the world of fire systems. However, over the past few years, green has quickly become a different symbol in the world of fire systems, the symbol of environmental friendly. Professionals within the fire safety industry are saying that as our fire systems continue to advance in a technological sense, they are also advancing in an eco-friendly sense.
Former Fire Suppression Systems Association President Paul Harris had this to say about the uprising of green fire systems, "I can say without a doubt that leaders in the field are definitely taking the greenhouse gases and green approach very seriously. It's not just lip service; they're trying to do everything they can to protect the environment." Harris went further as to discuss how fire suppression and fire detection systems can be created to have the smallest impact on the environment as possible. Harris said that ideally, you want the fire detection system to detect a threat in enough time that the fire suppression system would never have to deploy.
This trend of going green with fire safety and fire systems is sure to be apparent at next week's National Fire Protection Association's 2015 Conference and Expo in Chicago. Here, over 300 exhibitors will gather to display the latest developments in fire suppression and fire detection.
New fire systems for detection are being made to pull air into chambers to detect smoke instead of waiting for the smoke to make its way up to the detector. Detection systems are also being made to alert building occupants if overheating or other problems occur within computer or wiring systems. Fire systems for suppression, like the DuPont ™ FM 200® and 3M™ Novec™ 1230, are being made with eco-friendlier agents. They are also being made to have a release more similar to water with the agents being kept at room temperature, will reduces the carbon footprint made on materials and installation.
At Fireline, we offer an array of portable fire extinguishers and fire alarm systems to keep commercial buildings safe. Fireline offers the highest quality alarm systems to keep your business safe from fires and carbon monoxide poisoning. We also offer fire suppression systems as well to help keep commercial fires controlled should they break out. Our trained technicians will work with you to determine which air sampling smoke detection system is best for your business. We will also help install and maintain the system for your commercial building.
To get started with Fireline today, call us at 1-800-553-3405, or visit our contact page.
Be sure to "Like" and "Follow" the official Fireline page today on Google+, Facebook, Twitter, and LinkedIn.