Recently, one of Fireline's clients experienced a serious fire on their property that resulted in serious damage and even some injuries. On Sunday, September 6th, Columbia fire officials were called to the 5800 block Wyndham Circle around 11:45 in the morning. According to reports, fire crews from the Banneker station arrived almost immediately to the scene where they found the three alarm fire burning in Town Center.

Fire crews faced a serious fire burning from the third floor of the condos and requested back up. At 12:24p.m another call was placed requesting additional crews to help fight the blaze. At the peak of response, a totally of 75 firefighters were reported on the scene to fight the blaze. Both Anne Arundel and Baltimore county crews came to assist the Howard County crews with the serious fire.
Before 1, fire crews were able to have the fire under control and by 3 the fire was reported to be completely extinguished. At least 12 condominiums suffered major damage because of the fire with only one individual needing to be hospitalized and three others suffering minor injuries. It is reported that the individual hospitalized suffered only minor burns while two residents suffered minor injuries and another firefighter faced minor burns as well.
While the cause of the fire is still uncertain one thing is known for sure, the fire alarm system and sprinkler system helped with the evacuation process. Because both systems were functioning properly, residents of the condos were alerted of the fire with enough time to safely exit the building. This shows that proper system maintenance is crucial to ensure systems are working properly when an emergency occurs. Without these functioning systems, we could be reporting a much more somber story.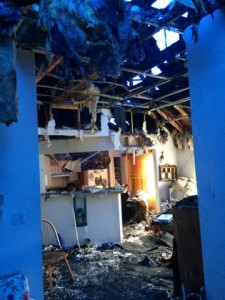 At Fireline, we offer an array of portable fire extinguishers and fire alarm systems to keep commercial buildings safe. Fireline offers the highest quality alarm systems to keep your business safe from fires and carbon monoxide poisoning. We also offer fire suppression systems as well to help keep commercial fires controlled should they break out. Our trained technicians will work with you to determine which air sampling smoke detection system is best for your business. We will also help install and maintain the system for your commercial building.
To get started with Fireline today, call us at 1-800-553-3405, or visit our contact page.
Be sure to "Like" and "Follow" the official Fireline page today on Google+, Facebook, Twitter, and LinkedIn.
Source:
http://patch.com/maryland/columbia/apartment-fire-columbia-sends-one-hospital-officials-0