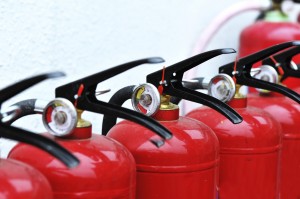 Fire extinguishers are used to help building occupants protect themselves against small commercial fires. Fire extinguishers should only be used if safety permits it; no one should ever place themselves in harm's way just to use a fire extinguisher. In order for fire extinguishers to be fully effective in emergency situations, they must be properly maintained and inspected.
An inspection of your fire extinguishers should take place at least once a month. An inspection is when an individual observes the physical traits of the fire extinguishers to determine if they are still in proper working order. These inspections help determine:
If the pressure is adequate. Fire extinguishers that include gauges should have the needle within the green zone to ensure proper pressure.
If the tamper seal and pin are still intact.
If the fire extinguishers have taken physical harm. This includes possible dents and rust.
If the fire extinguishers are held in a safe area that is never obstructed by clutter.
If the nozzle is not hindered.
Thorough maintenance of fire extinguishers should occur at least once a year by a professional to ensure the proper function of the device. This will include a full inspection to determine if any damage has occurred, or if the fire extinguishers need to be replaced or recharged. If fire extinguishers are neglected, they will be rendered useless when trying to fight a small commercial fire.
At Fireline, we offer an array of portable fire extinguishers and fire alarm systems to keep commercial buildings safe. Fireline offers the highest quality alarm systems to keep your business safe from fires and carbon monoxide poisoning. We also offer fire suppression systems as well to help keep commercial fires controlled should they break out. Our trained technicians will work with you to determine which air sampling smoke detection system is best for your business. We will also help install and maintain the system for your commercial building.
To get started with Fireline today, call us at 1-800-553-3405, or visit our contact page.
Be sure to "Like" and "Follow" the official Fireline page today on Google+, Facebook, Twitter, and LinkedIn.
Source:
http://goo.gl/BEkCLV