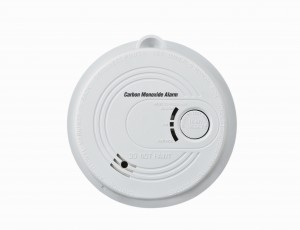 Carbon monoxide has come to be known as a silent killer in residential homes. Carbon monoxide poisoning provides no warning, and causes deaths in homes every year. It is more common in residential areas because of the use of generators and cars being kept in garages. However, the threat of carbon monoxide poisoning is still real in a commercial setting. To protect your employees from carbon monoxide, it is important to take the proper precautions.
Carbon monoxide is a gas that occurs when a fossil fuel is being burned incompletely. When you burn kerosene, natural gas, charcoal, oil, or gasoline, you run the risk of carbon monoxide building up if proper ventilation isn't in place. In a commercial setting, a gas leak or use of water heater or furnace could lead to the build-up and presence of carbon monoxide. To protect your staff and building occupants at all times from carbon monoxide poisoning, consider installing carbon monoxide detectors.
A carbon monoxide detector functions like a smoke detector. Sensors within the device can detect the presence of carbon monoxide within an area; some detectors even tell you what level of gas is present. A low level of carbon monoxide might seem harmless, but it can also cause health problems like nausea and dizziness. A high level of carbon monoxide leads to poisoning, which can then result in death if left untreated. Should an alarm sound during work, evacuate the building immediately and contact your local fire department.
At Fireline, we offer an array of portable fire extinguishers and fire alarm systems to keep commercial buildings safe. Fireline offers the highest quality alarm systems to keep your business safe from fires and carbon monoxide poisoning. We also offer fire suppression systems as well to help keep commercial fires controlled should they break out. Our trained technicians will work with you to determine which air sampling smoke detection system is best for your business. We will also help install and maintain the system for your commercial building.
To get started with Fireline today, call us at 1-800-553-3405, or visit our contact page.
Be sure to "Like" and "Follow" the official Fireline page today on Google+, Facebook, Twitter, and LinkedIn.