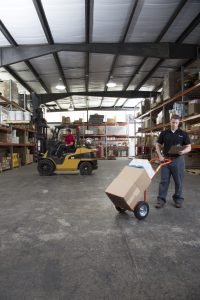 Distribution warehouses all across the nation are running at full speed to meet consumers' demands amid this current pandemic. It has never been more essential for these warehouses to stay entirely safe and operational. Distribution warehouse fires can cause severe fire damage to halt critical operations. Even in the middle of the current coronavirus chaos, fire protection has never been more important for major distribution companies. Understanding the common causes of warehouse fires can help all building managers put a plan in place to prevent these awful fires from spreading. Here are the top three dangers that cause fire damage in warehouses.
Arson
According to the NFPA, nearly one-fifth, or 18 percent of all warehouse fires, were intentionally set by someone. These fires accounted for over 32 percent of the direct property damage in all warehouse properties—the highest of all causes of fire damage in warehouses. While little can be done to prevent someone from starting a fire in a facility, warehouse managers can create a fire safety plan and integrate fire safety into the training of all their employees. Good security systems, policies, and procedures limit unauthorized access and provide surveillance for all areas of the building. Make it clear to all employees and visitors that the facility is aware of fire dangers and has reliable procedures and systems in place. Hopefully, this awareness of fire safety and fire prevention will deter arsonists.
Electrical Distribution and Lighting Equipment
The NFPA reports that fires started by electrical distribution and lighting equipment were the second leading cause of all warehouse fire damage. It is vitally important to conduct regular electrical inspections and have written electrical maintenance policies and procedures. Electrical failure and malfunctions are both leading factors contributing to the ignition of warehouse fires. They also contribute directly to property damage and injuries to civilians. Electrical distribution and lighting equipment may include wiring equipment, lamps, lighting, transformers, and power supplies, or plugs and cords. 
Heating Equipment
Among the top three causes of warehouse fire damage, heating equipment is the third leading cause. If you think about it, it is a dangerous combination. Warehouse heating systems require powerful energy to maintain adequate temperatures in winter. Mix any heat source with combustible materials, and it is a potentially dangerous mix. Of note is the uncontrolled use of space heaters or portable forced-air heaters, commonly known as "salamanders." Their use should be prohibited or strictly controlled. Also, commercial heating systems must be inspected and maintained regularly by qualified and licensed contractors.
As always, regular inspection and testing of fire alarm and sprinkler systems are the best way to avoid the ravages of fire. For more information on how to stop or prevent warehouse fires, give Fireline a call today!
Fire Protection Services from Fireline
Whether you need smoke detectors, fire extinguishers, or an automatic sprinkler systems installed at your commercial property, Fireline has you covered. We have been protecting people and property from fire damage since 1947—and our experience shows in our excellent work! We are known for our superb customer service, our expertise, and our reliability. For more information on how we can help your residential or commercial property, visit us online or give us a call at (800) 553-3405. We are located in Baltimore, MD and, with a second office in Leesburg, VA. For more fire safety tips, be sure to follow us on Facebook, Twitter, and LinkedIn.