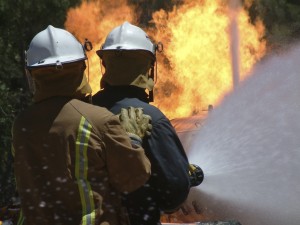 One of the worst scenarios that could occur during the work day is a workplace fire. While some of these workplace fires are unavoidable and beyond the control of building occupants, some fires can be prevented. In fact, many of the two hundred workplace fires that take place every day can be avoided if proper precautions were taken. Here are some tips on preventing workplace fires:
Before you plug in any type of appliance or device into an outlet, check the wiring. Wires that have become split, frayed, or damaged could spark an electric fire if used.
Designate specific smoking zones outside of the building for employees that do smoke. There should also be proper trash receptacles provided for employees to dispose of their cigarettes properly. Smoking indoors or discarding a cigarette improperly could lead to workplace fires.
Designate a kitchen area within your building for team members to prepare meals. Hot plates and burners used in unauthorized areas are one of leading causes of workplace fires.
Avoid using extension cords to the best of your ability. If an extension cord must be used, never leave the cord unattended and unplug immediately after use to avoid a fire.
Store any flammable materials in a safe and secure area. Read all warning labels and be sure to store these materials in a clean, uncluttered, and cool area. Be sure to clearly mark these storage areas as well to ensure staff is aware of their presence.
Avoid overloading any power outlets or power strips in the office. These outlets could short out or overheat, which could lead to workplace fires.
Make sure that all staff members are aware of fire safety procedures and how to handle a potential fire situation.
At Fireline, we offer an array of portable fire extinguishers and fire alarm systems to keep commercial buildings safe. Fireline offers the highest quality alarm systems to keep your business safe from fires and carbon monoxide poisoning. We also offer fire suppression systems as well to help keep commercial fires controlled should they break out. Our trained technicians will work with you to determine which air sampling smoke detection system is best for your business. We will also help install and maintain the system for your commercial building.
To get started with Fireline today, call us at 1-800-553-3405, or visit our contact page.
Be sure to "Like" and "Follow" the official Fireline page today on Google+, Facebook, Twitter, and LinkedIn.