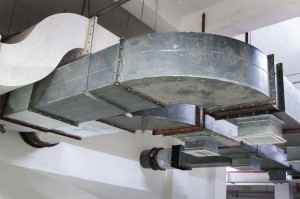 Like any structure, most commercial buildings are designed to include a duct system to support the HVAC system of your building. Without a proper duct and HVAC system, hot and cold air would be unable to circulate through your building. Because of this air circulation, it is also recommended that smoke detection is installed within the duct system to help prevent smoke from traveling throughout your building through the system. However, it is important know where the smoke detection should be installed in order to function properly.
Recommendations from NFPA 72, National Fire Alarm and Signaling Code state that ceiling mounted or wall mounted open area smoke detectors are best for commercial buildings. This recommendation is made to help prevent the chance of smoke becoming diluted within the duct system because of the movement of air. The recommendations also state that the detectors could be photoelectric, ionization, or both. However, it is also important to remember that the open area detectors used for the duct system should not be considered a substitute for another open area detector because smoke may not always be pulled into the HVAC system.
There are two different methods of installing smoke detection within your duct system. The first method is in-duct mounting, which places the system within the duct and uses a service access panel to help with inspections. The second method is mounting the detector on the exterior of the ducts using a housing system that includes sampling tubes and a sensing element being placed within the air stream of the duct. Before installation, it is also important to ensure that the detector is compatible with the air velocity of the HVAC system.
At Fireline, we offer an array of portable fire extinguishers and fire alarm systems to keep commercial buildings safe. Fireline offers the highest quality alarm systems to keep your business safe from fires and carbon monoxide poisoning. We also offer fire suppression systems as well to help keep commercial fires controlled should they break out. Our trained technicians will work with you to determine which air sampling smoke detection system is best for your business. We will also help install and maintain the system for your commercial building.
To get started with Fireline today, call us at 1-800-553-3405, or visit our contact page.
Be sure to "Like" and "Follow" the official Fireline page today on Google+, Facebook, Twitter, and LinkedIn.
Source:
http://www.usfa.fema.gov/downloads/pdf/coffee-break/cb_fp_2012_30.pdf