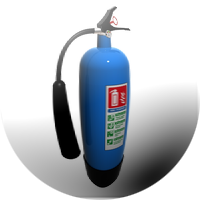 Portable fire extinguishers have been around for several years to provide individuals a defense against small fires. These extinguishers come in different categories based on the type of fire that needs to be fought. The individual can use the extinguisher to either stop the fire completely if small enough or at least have enough time to safely exit the building and call for professional help. One of the types of extinguishers available for use in a commercial setting is the water mist extinguisher.
Water mist extinguishers have a multiclass rating option from dry chemical to clean agent devices and can even be rated to be used on Class C fires, or fires that include energized electrical equipment. However, it can be hard to understand how a water based extinguisher can be used on electrical equipment for fear of shock. The current flow-back is prevented because of the path being broken by the water droplets after the spray. This means there is not a steady stream of water connecting the extinguisher to the electric current.
Water mist extinguishers were first introduced within the United States in 1997. The extinguishers began as a modified stored-pressure water extinguisher that implemented a spray nozzle, allowing it to meet all requirements set but the American National Standards Institute/Underwriters Laboratories. Once requirements were added that required an extinguisher to have an electrical resistance of less than 1 million ohms, the plain water initially used in the extinguisher was changed to deionized water.
Today, water mist extinguishers that are tested to ANSI/UL 8 and ANSI/UL 711 are safe to be used on fires with electrically charged equipment involved because it will not deliver a shock to the operator back through the discharge stream. They also have Class A capabilities because of their intense cooling abilities with the water spray.
At Fireline, we offer an array of portable fire extinguishers and fire alarm systems to keep commercial buildings safe. Fireline offers the highest quality alarm systems to keep your business safe from fires and carbon monoxide poisoning. We also offer fire suppression systems as well to help keep commercial fires controlled should they break out. Our trained technicians will work with you to determine which air sampling smoke detection system is best for your business. We will also help install and maintain the system for your commercial building.
To get started with Fireline today, call us at 1-800-553-3405, or visit our contact page.
Be sure to "Like" and "Follow" the official Fireline page today on Google+, Facebook, Twitter, and LinkedIn.
Source:
http://www.usfa.fema.gov/downloads/pdf/coffee-break/cb_fp_2012_46.pdf