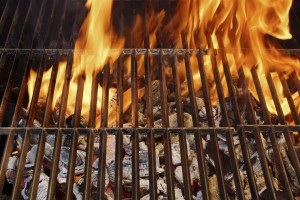 While Fireline specializes in the commercial distribution and service of fire sprinkler, alarm, and extinguisher systems, we still find it important to educate our community on fire safety. With the weather growing warmer and the days growing longer, grills throughout the community in which we serve will be seeing a lot of activity over the next few months. Whether you are participating in an after work cookout or you are feeding your family, grill safety is a must in order to prevent any serious injuries or fires.
The National Fire Protection Association reports that grill season is typically from May until the end of August, with fire departments across the nation seeing an average of 8,800 fires due to a grill. Also, in 2012 alone, at least 16,900 reported emergency room patients had to be treated for injuries due to a grill. To prevent these fires and injuries from occurring this season, those who will use a grill are advised to participate in the following grill safety practices:
Never use a grill indoors
Never light a gas grill with the lid shut
A coal grill should only be lit using approved charcoal and lighter fluid
When disposing charcoal, wait for the material to cool to avoid grass fires
Avoid lighting a grill under a tree or deck
Avoid keeping combustible items near a lit grill
Light a grill that is at least ten feet away from buildings and three feet from any children or pets
Never leave a lit grill unattended
Always read any guidelines or directions placed by the manufacturer of your grill
At Fireline, we offer an array of portable fire extinguishers and fire alarm systems to keep commercial buildings safe. Fireline offers the highest quality alarm systems to keep your business safe from fires and carbon monoxide poisoning. We also offer fire suppression systems as well to help keep commercial fires controlled should they break out. Our trained technicians will work with you to determine which air sampling smoke detection system is best for your business. We will also help install and maintain the system for your commercial building.
To get started with Fireline today, call us at 1-800-553-3405, or visit our contact page.
Be sure to "Like" and "Follow" the official Fireline page today on Google+, Facebook, Twitter, and LinkedIn.
Source:
http://www.the-dispatch.com/article/20150608/NEWS/306089999/-1/news?Title=Fire-officials-officer-safety-tips-with-grills&tc=ar