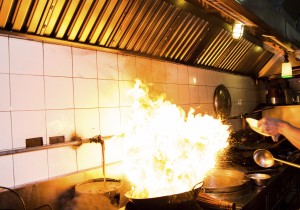 With Thanksgiving knocking on our doorsteps, the holiday season is right around the corner for everyone. The holiday season means holiday parties, holiday shopping, and plenty of holiday cooking. With so much time being spent in the kitchen, homes are at a higher risk for cooking fires. Here are some tips on how to avoid a holiday cooking fire in your kitchen.
Keep children out of the kitchen when holiday cooking is taking place. Children can easily cause spills, which could lead to a holiday cooking fire.
When working around an open flame or heated surface, remove any paper or plastic materials from the area.
When grilling, frying, or boiling food, never leave the stove unattended. You are working with flammable grease and oil at high temperatures, making the situation vulnerable to a holiday cooking fire. Should you need to leave the kitchen, turn off the stove or ask a family member to watch the stove.
Be aware of foods left to boil or simmer on your stovetop. While these items are a tad safer to leave unattended, it's important to monitor your food while setting a timer to avoid burns.
Never wear long sleeves while cooking over an open flame. Clothing can easily catch flame, causing an unwanted and dangerous holiday cooking fire.
Should a fire occur on your stovetop, turn off the heat source if you can do so safely. Then slide a lid over your pan or pot to smother the flames. Never try to remove the pot or pan from the stove while flames or smoke are visible.
Should an oven fire occur, keep the door to the oven closed and turn off the heat source if you can do so safely.
Should a holiday cooking fire occur, call your local fire department immediately. Ensure that all family members and friends know safe ways to leave your home should a fire occur.
When a holiday cooking fire is possible, your home should have a portable fire extinguisher on hand at all times. A Class K extinguisher is best used in scenarios involving flammable cooking materials such as grease or oil.
At Fireline, we offer an array of portable fire extinguishers and fire alarm systems to keep your family and friends safe this holiday season. Fireline offers the highest quality alarm systems to keep your home and business safe from fires and carbon monoxide poisoning.
To get started with Fireline today, call us at 1-800-553-3405, or visit our contact page.
Be sure to "Like" and "Follow" the official Fireline page today on Google+, Facebook, Twitter, and LinkedIn.
Source:
http://goo.gl/nvgf4S